StarSkate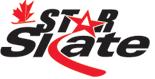 There is no right or wrong amount of time for any child to remain in the Canskate program, some pass all stages in a single season, but most will take 2 or 3 years to complete all 7 stages. Once they have completed their stages, or sooner if they are ready, they can move on to ESC's other programs. If you feel your child is ready for more challenge, speak to one of the Canskate coaches about your child's readiness for the pre-Junior or Junior program. If you are ever unsure about whom to talk to about your child's progress, the executive can help find the answers you need.
Pre-Junior
The pre-Junior program is a relatively new program to ESC. It was implemented in 2008/9 to make the transition from Canskate to independent training easier on young skaters. The pre-Junior program provides group coaching by a certified coach for a full 45-minute lesson (including the combined stroking session with the Junior skaters). There is also an additional 15 minutes of lesson time for independent skating or private lessons if arranged. At this stage of skating, kids are improving their skating skills, finishing their Canskate stages and those who are interested can arrange private lessons to begin competition solos or begin Skate Canada test work.
Junior
Once a child is ready for the Junior session, it is expected that they will have their own coach(es) for private or group lessons. This is arranged by the parents with the freelance or club coach of their choice. Coaches will bill you for their lesson time based on their own individual rates. The club provides a weekly stroking session during Junior ice. The club also provides PA's to assist the coaches on Junior ice. Skaters will begin work in the Skate Canada test stream: skating skills, free-skating, dance and interpretative. Many of these skaters will also choose to begin competing at the various levels available. Junior skaters must be able to work on their own between lessons.
Senior
Each skater will move on to the senior program when the coach, skater and parents feel they are ready based on skill, age, maturity and logistics. ESC recommends that senior skaters have passed all their Jr. Bronze Dances and Preliminary Free Skate. Senior ice is simply a continuation of the work skaters have begun on junior ice – they will continue with Skate Canada test work and/or competition training. The club also provides a weekly senior stroking session.